Field Layout Concept Optimizer is an Expert System and decision support solution that digitalizes the Concept Development Process through the automatic generation and ranking of integrated offshore production systems in shallow, deep, and ultra-deep waters.
FLOCO®

(FIELD LAYOUT CONCEPT OPTMIZER)
FLOCO® – Field Layout Concept Optimizer provides multiple tools to create, analyze, rank, and select the best field architectures, from the automatic generation of conceptual alternatives to customized reports to support the decision-making process, all in one place.

Integrated Field Planning, Feasibility, and Concept Studies
An integrated and automated solution covering the technical disciplines Reservoir, Wells, Supply Chain, Subsea, Flow Assurance, Production Unit, and Finance.

Key Economic Indicators at Hand
CAPEX, OPEX, NPV, IRR, Breakeven Oil Price, and Payback Ranking.

Detailed Data, Better Project Definition
Several detailed reports to help you to make the big decisions on Field Development Planning, Feasibility, and Concept Studies.

Shallow, Deep, and Ultra-deep Waters
A solution designed for any offshore project, regardless of the water depth.

Augmented Decision-making
Generate and rank a wide variety of possible development alternatives to find out the optimal field layouts.

Collaborative Worldwide Cloud Database
You are free to choose which database you prefer to work. Feel free to choose our database, your database, or even a combination of the two.

Extraordinarily Fast
Save more than 60% of the time during the conceptual engineering phase and make smarter decisions faster.

Easy Deployment
Easy access to the technology through commercial licenses with flexible periods.
Quantifying the Potential Savings Using FLOCO®

Engineering Team Man Hours Per Project
Concept Optimization Per Project

Carbon Emission Management Per Project

At Least 2/3 Of Time Savings During Conceptual Engineering Phase
Integrated Concept Screening and Selection
Powerful features to cover other important aspects in offshore developments and augment the decision-making.
Advanced Modules available: Subsea Processing Module, Project Phasing Module, Active Heating Module, Chemical Injection Module, Floco for Brownfield and the Advanced Topside Facilities Module.
Let us help you to save time, make better decisions faster and maximize the Return on Investment.
Av. João Cabral de Mello Neto, 200,
Block 4, Room 306 - Condomínio 02
Barra da Tijuca • Rio de Janeiro • Brazil
ZIP Code: 22.775-056
Simulate Thousands of Possibilities,
Find the Optimal Field Layout
Offshore projects can take a dedicated team of more than 10 engineers many months to develop a few conceptual alternatives.
FLOCO® uses artificial intelligence combined with a huge cloud database to generate and rank all feasible conceptual alternatives in hours.
Instead of investing time in developing feasible conceptual alternatives, project teams can focus on the insights provided by FLOCO® and find out what is the Optimal Field Layout.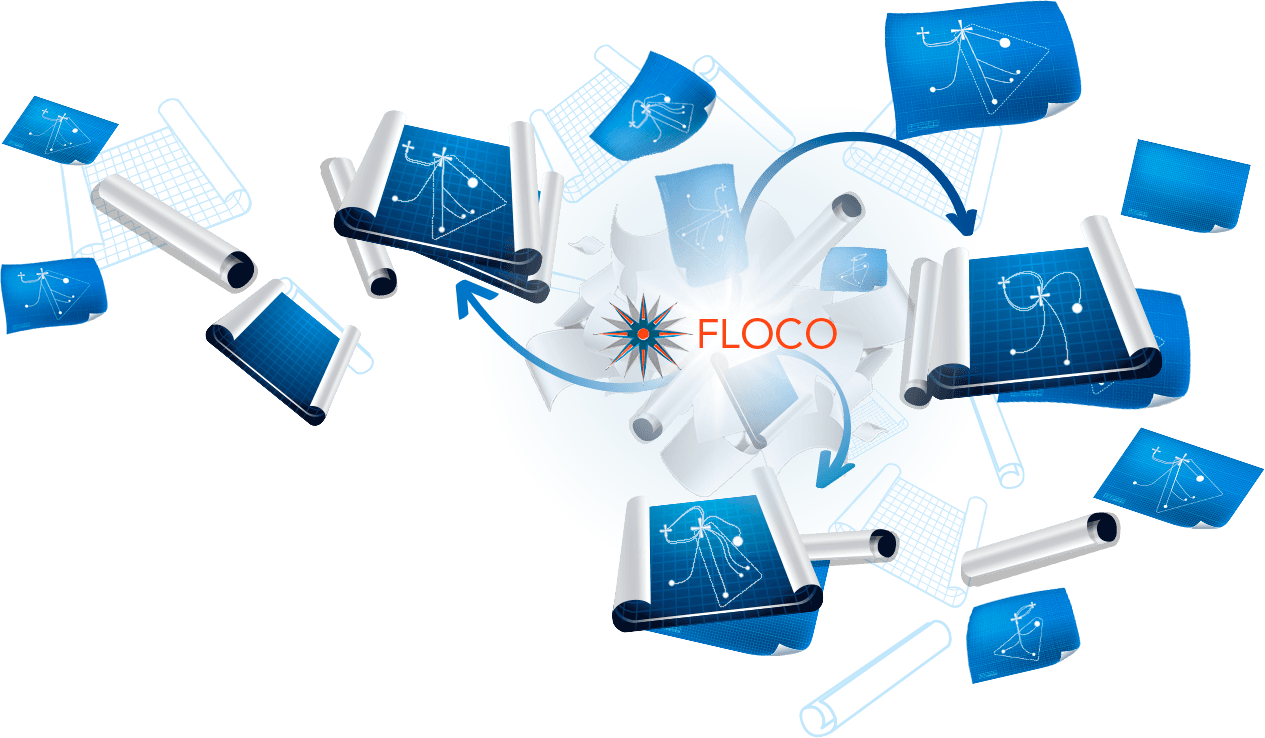 What is FLOCO?
FLOCO - Field Layout Concept Optimizer is an Expert System and decision support software solution designed for the automatic generation and ranking of integrated offshore production systems for shallow and deep/ultra-deep waters.
Is there a similar solution to FLOCO
No. FLOCO is a first-of-its-kind Digital Solution: an integrated and automated solution while in the conceptual phase of offshore field development.
What is Deep4Share?
Deep4Share is the first web-based Collaborative Platform in the Offshore Energy industry. As a Spin-Off of FLOCO's database, the platform connects Operators, EPCI Companies, and Manufacturers by making available business & technical information on equipment, systems, and installation resources.
How do you keep the database up to date?
The development and maintenance of the database follow three pillars:
1. Constant research of information publicly available;
2. Market survey with suppliers;
3. Cost engineering methodology.
The combination of these three pillars with several pilot projects has led to a database with perfect accuracy for FEL-1 & FEL-2.
On a cost engineering approach, we created specific cost models for equipment and systems, allowing the extrapolation to several different project envelopes based on metrics, and calibrated with information collected from the market survey and public research, ensuring the proper technology maturity level from an existing project envelope to a new one (prototype).
Does the database take into consideration market rates and their fluctuations?
We apply metric models fully aligned with market rates, such as steel and construction costs as well as other material costs. Therefore, based on frequent database maintenance, we update those metrics in our internal base, and all the items are automatically updated.
What about the accuracy of the database?
The expected accuracy of the database is aligned with AACE International, Class 3, tolerating up to -20% / +30%. However, it is possible to reach from - 5% to +5% in real cases.
What if I want to work with my own cost information in FLOCO?
The user can upload their items/cost data as private information, so other users/companies are not able to access that. Also, it is possible to combine Deep Seed Solutions and Customer data information.
Are there any water depth restrictions in FLOCO?
Our solutions are designed for any offshore project, regardless of the water depth. It is possible to work with shallow, deep, and ultra-deep waters.
Is FLOCO applicable only for greenfield projects?
The Subsea Processing Module allows users to work with tiebacks, and we are developing a specific advanced plug-in module for Brownfield Projects that will take place in 2022.